The global browser market was all prepped and ready for change with the July launch of Microsoft Edge (ME) – hoped to be the most technologically evolved browser in the market. How did Edge actually do? How did the big players in the industry respond? What should we expect to see in the next market quarter?
Browser market breakdown: Chrome steals the show
To put it plainly, Edge has yet to really make its mark. Google Chrome continues to lead with 53% market share as of September 2015. IE (not including Edge) has 16% market share, tying it with Mozilla Firefox, while Safari holds on to 9%. Edge, though three months old, has only managed to grab a 1% market share.
From September 2014 to September 2015, Google Chrome's market share increased by 15%, while IE's market share decreased by 20%, without an appreciable gain for Microsoft in the form of Edge users. The market shares of Mozilla Firefox decreased by 6% and Safari decreased by 18%, suggesting that the majority of users are choosing, or remaining loyal to, Chrome.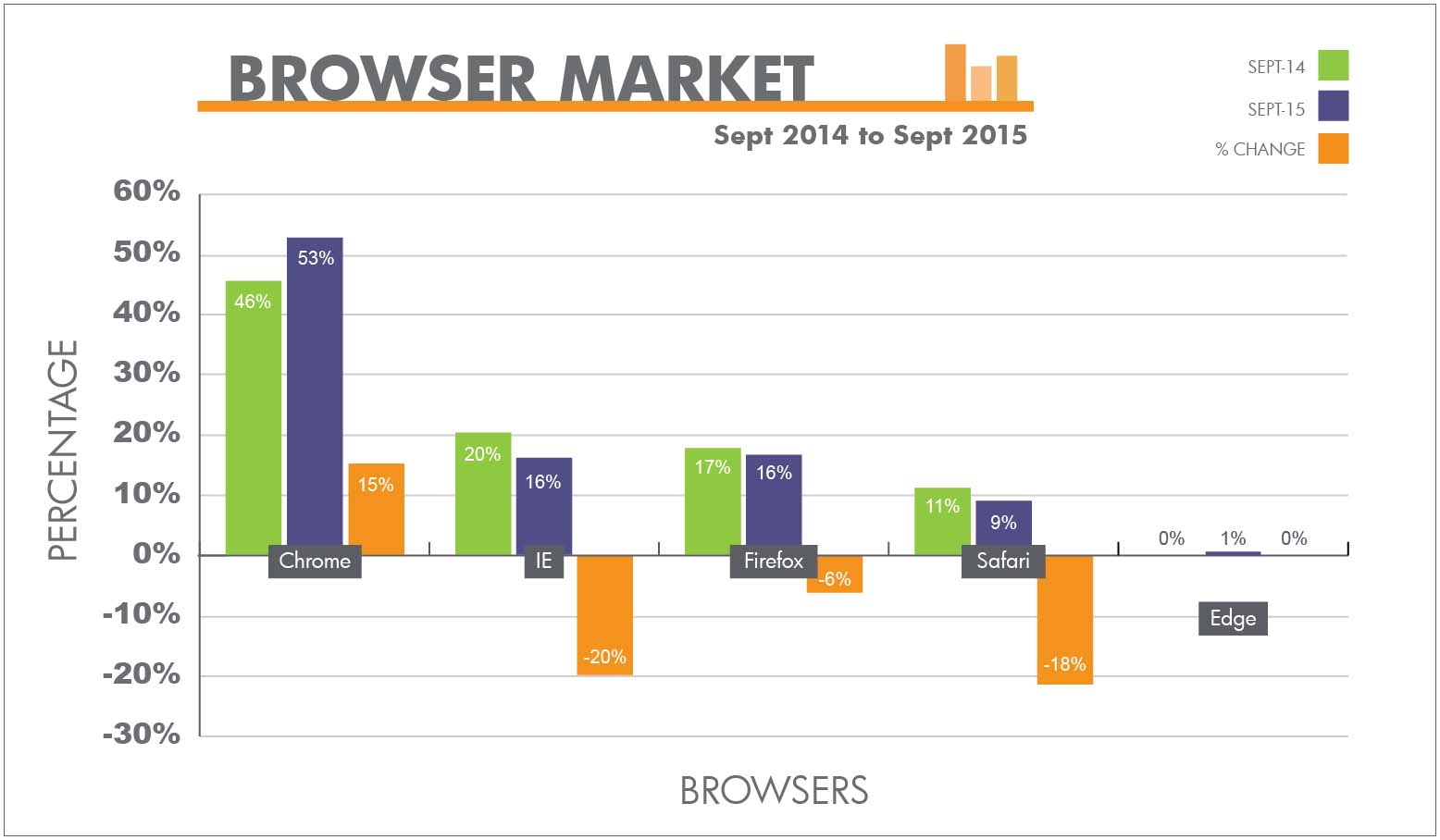 Browser Market Breakdown - 09/2014 to 09/2015
Edge Not Leading…Yet
As a Windows 10-only app, Edge's reach is limited – but even within its native operating system, it has yet to catch on as quickly as Microsoft hoped. In the months since its release, it peaked at a 20% share among Windows 10 users, before dropping back down to 14%. While Windows 10 usage is still on the upswing, and many of its users are giving Edge a shot, it is still challenged by the popularity of Chrome.
Where Does That Leave Microsoft Edge?
As of now, Microsoft Edge hasn't had the great success some thought it might right off the bat. As a result, Microsoft's market share has yet to really take off – long-time IE users may be giving Edge a shot, finding its lack of features (notably extensions) and slightly different interface off-putting, and finally giving Chrome and Firefox a try. As Windows 10 gains market share, and as Edge is improved upon by its developers, we'll see if it is a new way forward for the browser giant.