Good news for gadget lovers everywhere: the future of wearables is looking bright! This year, approximately 126 million units of wearable devices will be shipped worldwide. The International Data Corporation (IDC) predicts that the worldwide wearables market will nearly double by 2021, with shipments reaching 222 million. Predictions that wearables were a fad that would pass are looking, well, a little worn.
While fitness trackers had long been the most popular form of wearable, their time at the top has ended. Fitbit shipments have dropped, while Apple has become the market leader in wearable sales on the strength of its smartwatches. And while most wearables sold are still fitness trackers, they are gradually yielding market share to smart wearables. Smartwatches are considered to be more robust than dedicated fitness trackers – fitness tracking is just one among many of their features.
It also appears that wearables are really catching on in China. Following up is Xiaomi, who have nearly as much global market share as Apple, but without even touching North America – though that may soon change, as the company aims to expand into the market. Similarly, Huawei is another China-focused heavyweight that has seen growth so rapid that it almost totally throws off the visual scale of the graph above.
The wearables market is now shifting its focus from raising awareness among customers to getting the experience right – from how the devices look and feel, to how the data is collected and analyzed. Users can expect to see more diversity in the types of devices along with a drop in prices, which should help with its expansion to an even larger market. The wearables – and wearable apps – market is still a bit of a frontier, with plenty of room to grow, and dominance up for grabs.
Here's a visual version of all that data: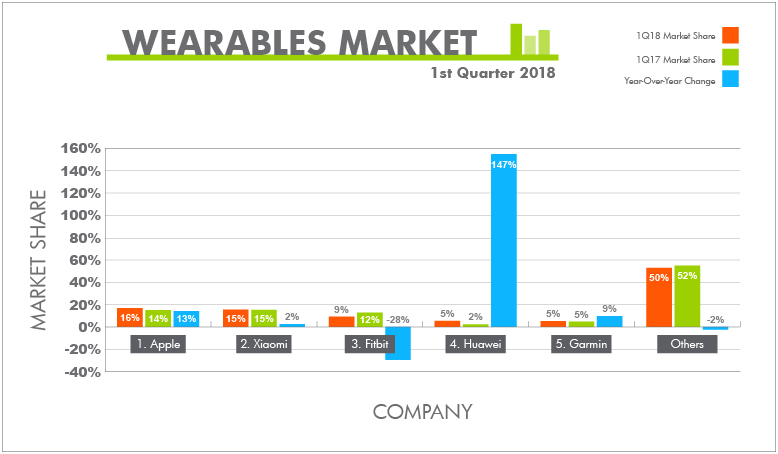 Wearables Market Share from Q1 2018
For example: in the next few years, smart clothing is expected to make an impact in the wearables category. In 2021, IDC predicts that around 11.5 million units of smart clothes will be shipped. This would put it at about 5.2% of the wearables market – still well behind the leaders, but a significant growth year over year from 2017-2021. Plus, as with any new technology, as more research and development takes place and the market expands, prices gradually come down, lowering the barrier of entry for more and more consumers.
Of course, technology trends are always hard to predict. New technology needs to meet a need, be (or become) affordable, be promoted, and adopted by a community. All signs are currently pointing to wearable technology booming, but with the fast pace of change in the market, it's ultimately still anyone's guess how it will all play out. But it will be fascinating to watch these most futuristic of products develop!