The latest comprehensive smartphone research report was released recently, and the results are fascinating, as always. The smartphone market is still less than a decade old, and as fast-moving as ever. Overall global sales were 13.5% higher than in quarter two of 2014, for a grand total of 329,676,400 phones, give or take a few. However, this was the industry's slowest-growing quarter in years – with market saturation and lack of innovation.
OS breakdown: Android is Still King, But Not Invincible
Phones running the Android operating system held an 82% market share in Q2 2015. However, that's down from an 84% share a year earlier. The main reason for Android's slight decline is Apple's slight increase over the same period, from 12% market share to 15%. Meanwhile, Windows phone market share grew 12% - respectable, but not earth-shattering, and BlackBerry fell from 0.7% to 0.3%. Barring some bold moves from Microsoft, it looks like Android and iOS may soon be the two remaining smartphone superpowers.
Vendors: New Kids on the Block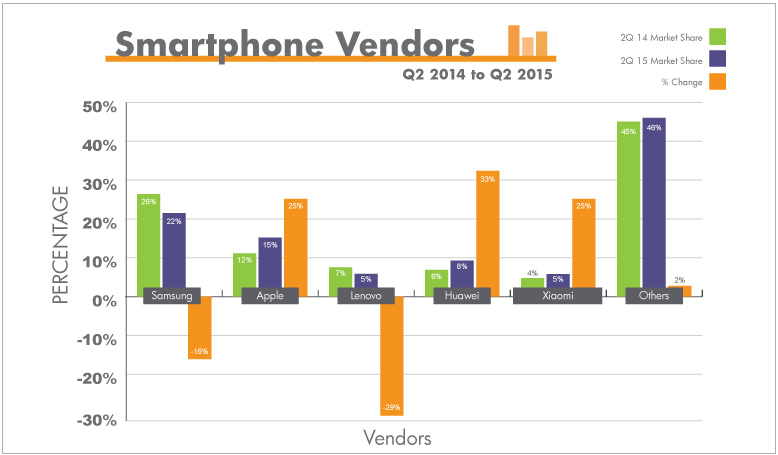 While Android may be the dominant OS, no phone vendor is similarly dominant. Samsung is the largest, but didn't have the strongest quarter, falling to 22% market share to competition from Chinese vendors Huawei and Xiaomi. Apple saw an increase due to its consumer loyalty, as did Huawei thanks in part to their lower overhead.
Expect The Unexpected
Now that the major markets are saturated with smartphones, the time is right for innovation. Relatively few brand-new phone features have shown up in the past year. Consumers already have a smartphone – they don't need to be sold on the basic concept anymore, but to stand out in a competitive marketplace, a new phone will need to dazzle. As new phones push the limits of what mobile is capable of, most peoples' phones' abilities are now standard, and mobile digital properties should account for this.
It seems obvious, that as the North American, European and Asian markets grow saturated with smartphones, the rates of sales therein will generally decrease – most people don't buy a new phone every year, after all. This is seen to account for the relative slowdown in growth in the industry – there are fewer worlds left to conquer.