The browser market is witnessing the erosion of Internet Explorer's (IE) dominance and the emergence of Google Chrome as the top browser that led in market share as of October 2014. A surprise statistic for the October 2013-2014 period is the more than 25% growth enjoyed by Safari.
In October 2014, Google Chrome had 43% market share, IE had 28% market share, Mozilla Firefox had 17% market share and Safari had 11% market share. (StatCounter)
Over the course of the last 12 months (October 2013 to October 2014), Google Chrome's market share increased by 48%, IE's market share decreased by 41%, the market share of Mozilla Firefox increased by 15% and Safari's market share increased by 26%.
Here's a visual version of all that data: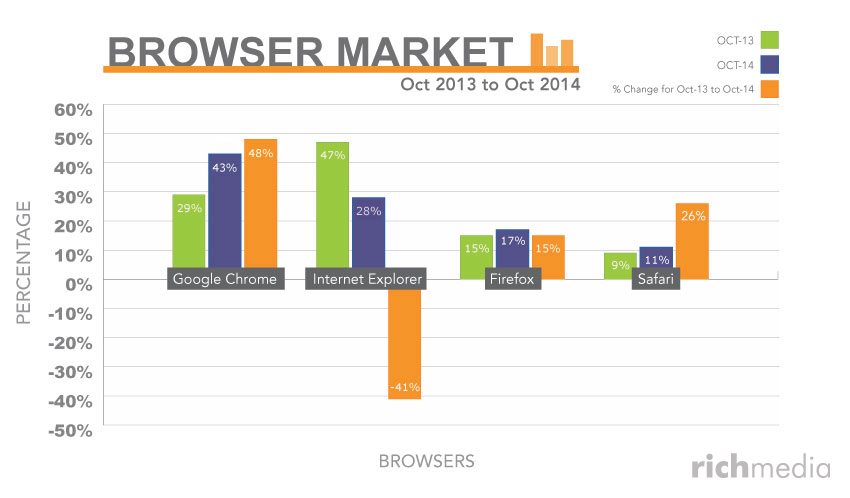 Safari's growth might be influenced by Apple's increasing popularity in Canada, as Safari is the browser commonly used in Mac operating systems. Also, the changes in IE 11 (released in October 2013) have certainly not contributed to a growth in market share. Overall, Google Chrome seems to be the most steadily growing browser in the market with a large and moderately increasing market share. Finally, both Safari and Google Chrome desktop browsers appear to be gaining popularity due to the success of their mobile versions
The battle between Firefox and Safari might be particularly sensational over the course of the next few months, since Safari has a higher growth rate than Firefox yet the overall market share of Firefox is higher than Safari, and both browsers can be used in Mac operating systems.